Welcome to Golf Guide
Basic Golf Rules Article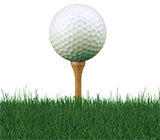 . For a permanent link to this article, or to bookmark it for further reading, click here.
You may also listen to this article by using the following controls.
Brushing up on some basic golf rules
from
:
www.ultimategolfguide.com
Basic golf rules are simple and easy to learn, but if you are brand new to the game of golf, basic golf rules may be mystifying to you. There are many unspoken rules that go along with the game that you need to familiarize yourself with in order to become comfortable out on the course and with other players. Basic golf rules range from the mechanics of the game, course conduct, etiquette, and course maintenance. Learning a few of the most commonly encountered basic golf rules will prepare you for a great time out on the course, whether it is your first time to set foot on a golf course or you are just brushing up on the fundamental rules of the game.
• A round of golf consists of eighteen holes, which you should allow a minimum of four hours to complete.
• The maximum number of clubs allowed in your golf bag while you are playing a round is fourteen. Having more clubs in your bag than this can result in stroke penalties.
• Basic golf rules that have to do with etiquette include letting the proper person hit first at the beginning of each hole and during the course of the hole. The person with honors on the tee box, or the first hitter, is who scored the lowest on the previous hole. While on the putting green or hitting approach shots, the player who hits first is who is farthest from the hole.
• It is important to make sure the hole or green is clear before you hit your shot. Also, be sure no one is standing near you before you take your swing.
One of the basic golf rules that many beginner golfers most often violate is the rule to avoid slow play. Follow these simple pointers to help yourself get around the golf course at an appropriate speed.
• Check to make sure you have all the equipment you need before you start your round. You will need enough tees and golf balls to last you the entire round.
• Practice or training does not belong on the golf course. Participate in any golf practice or training on the driving range or practice green.
• If you are searching for a lost ball, limit your search to a maximum of five minutes.
• Try to keep the pace of the group immediately in front of you. If a group of golfers is behind you and playing at a faster pace, it is polite to let them play through and proceed ahead of your group.
• Clear the putting green as soon as your group has finished putting. The green is not the right place to calculate scores.
Christine Gray is a recognized authority on the subject of
golf rules
. Her website
Ultimate Golf Guide
provides a wealth of informative articles and resources on everything you will need to know about
basi rules of golf
. All rights reserved. Articles may be reprinted as long as the content and links remains intact and unchanged.
Basic Golf Rules News
No relevant info was found on this topic.